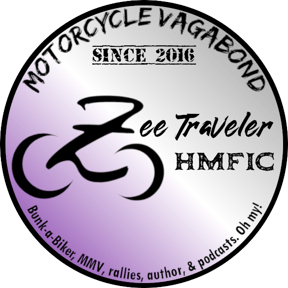 Tips and Tricks to Motorcycle Staying for Free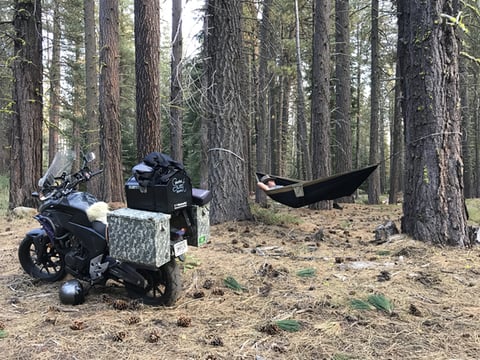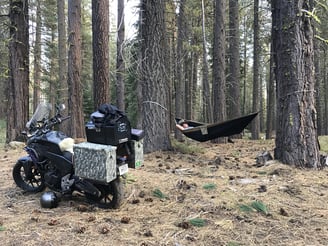 For the last seven years I've been living off of my motorcycle, with all the ups and downs that come with it. One way I afford to keep going is by camping, staying with friends, and being willing to go the extra minute to save money. Here I'll outline all the resources I've found to help and my experiences with them.
1. freecampsites.net
This tool was designed by RVers for RVers but works just fine for us as motorcycle riders. Many different types of campsites are listed on the map, from casino and Walmart parking lots up to National Forest campsites with bathrooms and BLM areas. If you want specific amenities like water access, hiking, or bathrooms, you can filter the locations shown on the map. I've used the site many times and I recommend taking the time to read the reviews. Some roads may be rough but you'll usually find out if you can turn around, how many miles it is from a paved road, etc. You may have to go 10-20 miles off the beaten path, but there are many gorgeous places worth checking out. Also, remember to save your coordinates to your GPS in case of low reception.
Tools: Website only
2. Campendium
This free app and website takes away a lot of the guess work in finding free campsites in the US National Forests. It lists not only free spots, but paid spots as well with the ability to search based upon amenities needed.
​Tools: Website, Apple app, and Google app
3. Bunk-a-Biker
Bunk-a-Biker is managed by myself and is designed for bikers at home to host bikers on the road. The map has over 600 pins worldwide and has been great at bringing people together. The map is on the webpage linked above but feel free to join the Facebook groups if you can! We love to see photos of your stay posted to the group.
Tools: Website and Facebook
4. ADVRider Tent Space
ADVRider is a forum that's been up for a long time and Tent Space is their solution to people wanting to help travelers. I've only used it once but I had a great host for the night. You have to make an account to contact hosts so a little forethought is required for this one.
Tools: Website only
5. Horizons Unlimited HUBB
The HUBB is a resource that will help for international travel more than the rest. I've yet to use it myself but there's invaluable information on border crossings and people all over the world to host you or help you out. You'll likely have to make an account to contact people.
​Tools: Website only
6. iOverlander
iOverlander was founded for four wheeled, off road enthusiasts to find places to stay. Some are paid but plenty are free and vary from parking lots to spots on the beach to hostels with gated parking lots. It's another tool great for international travel outside of the United States.
​Tools: Website, Google app, and Apple app
7. Ultimate Public Campgrounds App
This app may cost $3.99 for the US and $1.99 for Canada, but they feature more than 37,000 and 4,300 public free and low cost campgrounds respectively.
Tools: Google app and Apple app
​8. Free Biker Camping on FB
I haven't used this group but it's got 2,400 members on August 2019. If you use it, email me to let me know!
​Tools: Facebook only
9. BikerBuddy App
This one's unique feature is that there's an app on the Apple and Google stores. It's also free to use but I've yet to have experience with it.
​Tools: Google app and Apple app
10. Local fire departments and police stations
Many small towns allow camping at their city park and if you check in with fire or police, they'll often watch out for you and your stuff. The city parks I've camped at have usually had nice bathrooms and drinking water, sometimes even showers. It never hurts to ask!
11. Rest Stops and Picnic Areas
There's been many days I've gotten tired unexpectedly or bad weather moved in and I've stayed at a rest stop or picnic area. The ones away from cities are usually pretty quiet and no one will bother you for the night if you need to sleep. They usually have bathrooms and trash cans which is a bonus. Look for any rules posted at each site and stay respectful of them. If we abuse these areas, the state will stop funding them and they'll shut down.
12. Finding Your Own Dispersed Campsites in National Forests and BLM Land
If you're like me and camping is meant to be an activity of solitude and serenity, finding your own spots is the way to go. It took me a few years to get comfortable and reasonably good at it, but it now pays off that I can find spots all to myself. Please follow the rules for dispersed camping when you do such as "leave no trace," as we would hate to lose this privilege. (Link to guidelines above)
13. Park4night App
This one is yet another RV/car camping based app but works for us as motorcyclists too. It is European based and I find it incredibly useful for camping around the Alps.