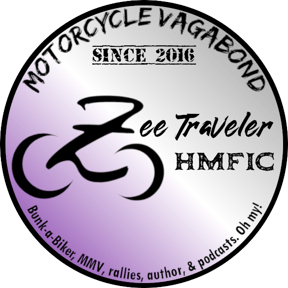 You Take WHAT on Your Motorcycle?!?
Here's a simple list and short reviews of everything I carry on my motorcycle for long term travel. Some gear is from Walmart but most of my gear is high quality because I don't want it to fail at a bad time or buy it every year. I'll break it down into motorcycle specific, clothes, and camp use specific. Click the blue names for product websites.

Sleeping Gear:
- ENO Singlenest Hammock - It was my first hammock and I've seen no need to buy another.
- ENO Helios Straps - My second set of straps. I love the whoopie sling design.
- ENO Bugnet - It's never failed to protect me and it hasn't ripped yet.
- Enlightened Equipment Revelation Quilt - A lot of research went into this purchase and I have 0 regrets. American based company, great owner, great customer service, great prices, and a quality product.
- HMG Cuben Fiber Tarp 8'x10' - It's expensive but it keeps me dry no matter how long I get rained on.
- NeoAir Xtherm Pad - It's so warm I gave myself a heat rash in 50+ weather. It crinkles but it works well.
- Bundle of 550 paracord.
- 2 kinds of stakes (6 in total) - MSR Blizzard and MSR something else that's skinny for rocky ground.


Food Gear:
- Bear Bowl - Has limitations but it works for me and it's compact.
- Cheap Amazon Stove - It was a gift, it works, it has a hot spot but I work around it.
- Titanium and Bamboo Utensils - These were gifts from friends so I don't know the links.
- Gallon and quart Ziploc bags - EVERYTHING goes in these.
- 25' of tin foil folded - $1, packs small and is handy.
- Cutting board - $1 at Walmart, can be plate or used to filet a fish.
- Cascade Wild camping table - Lightweight and worth the space. Fantastic retired couple make them here in the US.
- P38 and P51 can openers.


First Aid and Survival Gear:
- Sawyer Water Filter - Haven't used it yet, will update when I do if I don't die.
- CNOC water bladder - Better than the Sawyer bags and good for water storage.
- Pads, bandaids of all sizes, tape, and super glue
- Hydrocortisone, Bacitracin, Aloe, Tecnu, and lotion
- Pills of all kinds ie: ibuprofen, benedryl, anti-diarrhea, gas relief, acid reduction, etc
- Bottle of eyewash
- Mouth cover
- My Favorite Multi-tool: whistle, mirror, compass, striker, flint, magnifying glass, measure, levels.
- Striker and flint, waterproof matches, lighters, and Wet Fire
- Pocket saw and cut resistant gloves.
- Flat Multi-tool: bottle opener, screw driver, knife, bolt head.
- Tampons and pads.
- Fishing line, nylon thread, and needles.
- Poncho and reflective blanket.
- MoleSkin, Quikclot, and instant cold pack.
- Latex gloves.
- Alcohol pads.


Clothes:
- 1 Under Armour water resistant hoodie
- 1 pair of jeans
- 1 bikini
- 2 shirts
- 1 tank top
- 2 pairs of shorts
- 1 pair of thermal pants (Under Armour)
- 2 pairs of regular socks
- 1 pair of wool socks
- 2 sports bras
- 1 pair of boots (Irish Setter Vaprtrek)
- 1 pair of sandals (Teva Terra Fi 4)
- 1 pair of gloves (Ganka Canadian gloves)
- 1 touque (Canadian beanie)
- 1 balaclava
- 1 waterproof riding jacket (Cycle Gear BiLT)
- 1 pair of waterproof pants (BiLT)
- 1 microfiber towel (Amazon 3 pack)
- 1 hat


Motorcycle Tools:
- 1 roll of each: electrical tape, gorilla tape, camo duck tape.
- Honda Bond, zip ties, super glue.
- 1 custom made tool kit that could disassemble the whole bike.
- 1 Stop 'n Go tire flat kit with compressor.
- 1 Amazon knock off Ram mount phone mount with USB port.
- 1 USB port ran into the saddle bag.
- Chain cleaner and chain lube.
- Industrial strength Velcro.
- Tire gauge.
- Headbands and bandana.
- Spare clear and tinted glasses.


Miscellaneous:
- 3 flash lights, 1 headlamp and spare batteries.
- Bug wipes, bug spray, bug everything.
- Cords for all my electronics and 3 backup batteries.
- Anker 21w Solar Panel.
- Ratchet strap.
- Tripod.
- Harmonica.
- Pack of cards.
- Luci solar light.
- Hot Hands and Feet.
- Pocket ground sheet.
- Pocket silnylon backpack.
- Helinox chair zero.
- CNOC trekking pole.
- Knives.
- Souvenir collection.
- Razor, sunscreen, lotion, Qtips, and exfoliating glove.